SAN FRANCISCO CHORAL ARTISTS
and the ALEXANDER STRING QUARTET
FCL2006

"This album is the creative fruit of a unique Bay Area collaboration between San Francisco Choral Artists (Magen Solomon, Artistic Director) and The Alexander String Quartet.... Especially in the resonance of a church (in this album's case, St. Stephen's Episcopal Church in Belvedere, CA), the strings are not overwhelmed by the choir, but rather find their own space to complement the sometimes dense vocal texture.

"Inspired by a sculpture of the same name in front of the poet's City Lights Bookstore, composer Veronika Krausas' language of the birds sets passages from five of Ferlinghetti's San Francisco Poems. Three (1, 3, 5) are jouncy bird-themed exercises in which the strings saw away quick successions of detached notes to create a frenetic energy on which the choir feeds, turning these simple haiku-like phrases into insistent declamations with plenty of dramatic irony.
"Brahms' Four Quartets, Op. 92, originally for vocal quartet and piano, are here performed with the piano part transcribed for string quartet by Zakarias Grafilo, first violin of the Alexander String Quartet. SFCA's rich vocal blend is as effective with these Romantic settings as with the freer modern works.
"For Winter Light, composer Michael Gandolfi set two poems by the Imagist poet Amy Lowell that crystallize the individual's tortured experience with, respectively, nature and passion. "Falling Snow" begins with the strings playing a hurried falling figure in a minor, sounding like the beginning of a string quartet, so complete is the idea.
"Anchored by fresh interpretations of Brahms and Beethoven, the imaginative new works commissioned for the Alexander String Quartet and SFCA cohere uncannily, as the composers no doubt took advantage of the ensembles' polished ability to stretch time and evoke an endless range of emotional and picturesque subjects."
— Rob Wendt, I Care If You Listen (read full review)
Excerpt from liner notes by Eric Bromberger
This recording grew out of a joint venture by two of the San Francisco Bay Area's most adventurous ensembles, San Francisco Choral Artists and the Alexander String Quartet, and specifically out of a sequence of concerts they gave together in the Bay Area in May 2011 in celebration of the Choral Artists' 25th Anniversary Season. It was a unique collaboration, and it produced a unique sound: a 24-voice chamber choir partnered with a string quartet in both established works by classical composers and new works commissioned specifically for these artists. This recording offers listeners the opportunity to experience that collaboration and some of the possibilities it unlocks.
The most striking aspect of this project may well be the dizzying variety of the texts set here, some of them written very recently. While Veronika Krausas pays tribute to San Francisco in language of the birds, on texts of the city's famous poet Lawrence Ferlinghetti, and Stephen Leek's Hollow Stone draws on Australian Randolph Stow's poem of exterior and interior space, not all of the texts are by modern poets. Michael Gandolfi's Winter Light sets two evocative poems of Amy Lowell, while Paul Chihara draws on the sumptuous poetry of Paul Verlaine in his lush setting of that poet's famous night-song, Clair de Lune. And we recall unfamiliar music by great composers of the past in Beethoven's touching memorial for a woman who died in childbirth, in Brahms' intimate settings of four quite different poets, and in transcriptions for string quartet of two of Brahms' pieces for piano.
Part of the pleasure of this project is the astonishing variety of texts and music that the celebratory collaboration produced. Perhaps even more surprising is the resonance inherent in this partnership of strings and voices — of voices "with strings attached."
More Brahms:

Order Now from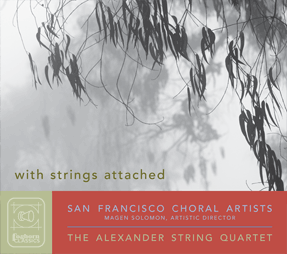 • • •
TRACK LISTING
Veronika Krausas
language of the birds
1. no. 1
2 no. 2
3. no. 3
4. no. 4
5. no. 5
Lawrence Ferlinghetti, poet and narrator

Stephen Leek
6. Hollow Stone

Johannes Brahms (tr. Grafilo)
Four Quartets, Op. 92
7. I. O schöne Nacht
8. II. Spätherbst
9. III. Abendlied
10. IV. Warum?

Ludwig van Beethoven
11. Elegiac Song, Op. 118

Michael Gandolfi
Winter Light
12. I. Falling Snow
13. II. Opal

Johannes Brahms (tr. Grafilo)
14. Ballade in D Major, Op. 10, No. 2
15. Intermezzo in A Major, Op. 118, No. 2

Paul Chihara
16. Clair de Lune