"Brahms, with a perfectionist's fanatical zeal, wrote, rewrote, and ultimately destroyed more than 20 string quartets before publishing a pair of exceptionally exquisite pieces at the age of 40, breathing new life into the old bones of an exacting chamber music form."
— Robert Greenberg, composer and educator
More than six years ago, we began performing the complete quartets, quintets and sextets of Johannes Brahms. In the intervening years, we have presented them in many different venues with different collaborators, and when practical, frequently in chronological order. This has yielded surprising insights and some stunning perspectives. Imagine for example, hearing the G major Viola Quintet Op. 111 in the same program alongside the B minor Clarinet Quintet Op. 115. In one of the most memorable such sequences, at our urging (abetting really) our first violinist Zak Grafilo was persuaded to transcribe several of Brahms' gorgeous piano works for string quartet which we included in the programming, enabling us to maintain the chronological sequence, but to better balance the programs for both length and contrast. For example in the combination listed above, the inclusion of the A Major Intermezzo Op. 118 #2 was a perfectly paced and particularly beautiful addition.
At this point, realizing our goal — of providing a comprehensive "collected works" — is within sight though not yet within our budget. Happily, we raised enough funding support to record the String Quintets and Sextets last February with Toby Appel and David Requiro — and then in April, the Piano Quintet with Joyce Yang. All of these recordings have been made under optimal conditions, recorded at St. Stephens in Belvedere, CA and produced by Judith Sherman.
You can now hear several of the component parts: Brahms' Piano Quintet, featuring Joyce Yang, is available on FCL 2014 (paired with Schumann's Piano Quintet). Also "hot off the press" are the String Quintets and Sextets — a 2-CD set on FCL 2012. The Clarinet Quintet with the marvelous Joan Enric Lluna can be heard on In Friendship (FCL 2007). And two of Brahms' piano works, transcribed for string quartet by Zak, can be heard on With Strings Attached (FCL 2006).

In short, we are within shooting range of completing the project and are actively encouraging fiscal support to help make the "comprehensive Brahms" a reality.
More Brahms: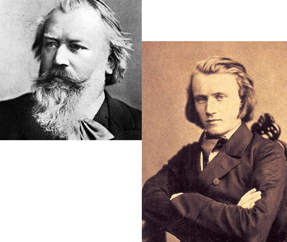 Johannes Brahms

Complete String Quartets,
Quintets & Sextets

Alexander String Quartet
and guest artist "friends"
Producer — Judith Sherman
Engineer — Robert Shumaker
• • •