in friendship cano & brahms clarinet quintets
ALEXANDER STRING QUARTET
with JOAN ENRIC LLUNA, clarinet
FCL 2007
"Quintet for Clarinet and Strings, Op. 74 by the Valencian composer César Cano asks to be placed in the same room as the greatest clarinet quintets, rooms reserved for the likes of Brahms, Mozart, and Weber. This music, of dazzling intensity, has put the Alexander String Quartet and the fantastic Joan Enric Lluna in charge of its release, a responsibility that is key in this magnificent interpretation of music this good and this complex. Brief and very well-structured, the naturalness in which this quintet flows guarantees its longevity, especially with beautiful moments like Cantos oblicuos, a slow movement where we can imagine Bartók walking among the notes.
After Cano, there is what is considered one of the masterpieces of Chamber Music, the marvelous Quintet in B Minor for Clarinet and Strings, Op. 115 by Brahms, a piece that Lluna knows deeply….Fantastic performance, of special luminosity, with Lluna mastering it, capable of reaching every corner of the dense white cloth to the music."— RITMO Magazine (Highest Rating) Click to view PDF in the original Spanish.
"This album, titled "In Friendship," is particularly remarkable for César Cano's clarinet quintet.... This is music with sharp edges, even in the string writing — no "easy listening classical" here! — yet which keeps up the interest of even the casual classical listener while it challenges and delights the experienced ear.... This is, quite simply a marvelous work, and it is marvelously performed by Lluna with the Alexander Quartet.... I can't recommend this one highly enough. It's simply a gem." — Lynn René Bayley, Fanfare Magazine
Liner Notes by Eric Bromberger
One of the most fertile conjunctions in the history of music has been the combination of the smooth sonority of the clarinet and the resonant sound of stringed instruments — that fusion of quite different textures and sounds has produced great music in completely different eras. And that combination of sonorities has at particular moments been energized by the close friendship between a superb clarinet player and a particular composer. Mozart had always loved the sound of the clarinet, which he first heard at age seven in Mannheim, but it was his friendship with clarinetist Anton Stadler, a fellow Freemason in Vienna, that led to the creation of the great works of his final years for clarinet: the Clarinet Trio, Clarinet Quintet, and Clarinet Concerto. Early in the nineteenth century, Carl Maria von Weber became acquainted with the clarinet virtuoso Heinrich Baermann, and that friendship led Weber to write a number of works specifically for Baermann, whose playing Weber very much admired. In 1890 Johannes Brahms, who at that point believed that he was done composing, met the German clarinetist Richard Mühlfeld and — inspired by Mühlfeld's playing and by the sound of his instrument —  came out of retirement to compose four works of autumnal beauty for that performer. A generation later, Aage Oxenvad — principal clarinetist of the Royal Danish Orchestra and clarinetist of the Copenhagen Wind Quintet — became close friends with Danish composer Carl Nielsen, and for Oxenvad Nielsen wrote the Clarinet Concerto which is one of the finest composed for that instrument in the twentieth century.

The present recording offers two works for clarinet and string quartet that grew out of close relationships between performers and composers. Clarinetist Joan Enric Lluna recalls his long friendship with composer César Cano:
César and I met in the harmony class at the Valencia Conservatory. Our teacher was very demanding, and halfway through the academic year, from the original ten students only César and I survived in the class. I learned a lot that year, struggling every week to have my harmony exercises done on time while César came every week with more exercises than we were asked to do. He was brilliant and our teacher nicknamed him "César Franck."

I returned to Valencia some years later from Belgium to join a horn player and pianist for a concert. We were short of repertoire and immediately thought of asking César to write a piece for us, as he had a reputation for being a very good and fast composer. He provided a brilliant trio in just a week — the first of several pieces he wrote for me. Later came Sueño oscuro ("Dark Dream") for solo clarinet, which I premiered in the Ensems (a contemporary music festival in Valencia). César spent two years in London, where I was already living, and there he wrote Vigilias for clarinet and piano, which I premiered at Wigmore Hall, and later — back in Valencia — Apolo en Sodoma, also premiered at Wigmore Hall. He also wrote a clarinet concerto for me that was premiered with the Valencia Orchestra. The Clarinet Quintet is the most recent piece César has written as the result of our friendship.
For their part, the members of the Alexander Quartet speak fondly of their long relationship with Joan Enric Lluna:
We have been fast friends since we first met in Gran Canaria almost twenty years ago. We arrived from the Netherlands, and he from Valencia. We gathered around a bed in one of our rooms in an elegant old colonial hotel to play through the works we'd perform the following evening. After a breathtaking reading of both Mozart and Brahms, feeling as if we'd collaborated forever, we put our instruments away, went out to eat together and have been the closest of friends ever since. We traveled to Barcelona later that week, performing in the Palau de la Música for a TV crew that was shy a couple of cameras. Even though their solution was to line us up like targets on a shooting range, our camaraderie and comfort was such that it didn't even phase us. In many subsequent tours to Andorra, Spain, Italy, Britain, California, even a practically overnight trip between Spain and Scotland with a stop in New York City, we have relished any and every opportunity to play together.
Quintet for Clarinet and Strings, Opus 74
CÉSAR CANO 
Born 1960, Valencia, Spain
The composer has provided a note for this work:
The Clarinet Quintet, Opus 74 is a work for clarinet and string quartet, structured in four movements. Veladas Proporciones (veiled proportions) is the enigmatic title of the first move­ment. Here we find a great variety of proportional note values and rhythms, intentionally writ­ten for the listener to perceive them almost unconsciously, as they are organic and coherent with the musical discourse, and not artfully calculated. Finding that balance between organic simplicity and necessary complexity, which is never arbitrary, ostentatious or pretentious, is one of my aesthetic goals. In this first movement there is a combination of sharply rhythmic passages, creating poly-rhythms and poly-pulses with intensely lyrical phrases from the clarinet and the first violin.

The second movement, Ecos y Lances (echoes and duels), is a lively scherzo in triple meter. The motoric underpinning of the entire piece relies on a particular rhythmic cell which dislodges the basic rhythm, played by two strings in ricochet, imitating one another in an echo, while the other instruments create a polyrhythm. On this complex but thin and light rhythmic tapestry, the clarinet and first violin join to expose the main theme, which returns later. The clarinet has two more short duels, first with the cello and then the viola.

Cantos Oblicuos (oblique chants) is the title of the third movement. It begins with a counterpoint of glissandi in the strings, something heard in the previous two movements, though with less prominence. The magical clarinet multi-phonics stand out in this subtle microtonal passage. The strings deploy rapid polyrhthmic arpeggios while the clarinet and cello play slow and expressive contrapuntal melodies which create a beautiful contrast. The final section displays a dense polyphonic mural featuring all five voices, characterized by the constant presence of accented ornamental turns of varied dimensions.

The fourth and last movement, Pulso Florido (florid pulse), is strong, energetic and eminently rhythmic with passages of instrumental virtuosity between the clarinet and first violin. Contrasting rhythmic cells are alternated to give variety while maintaining the rhythmic drive that holds the whole movement together. These cells are generated by various internal reorganizations of 7/8, 8/8, and 9/8 meters. The carefully planned development of dynamics and the melodic and harmonic material create tensions that strain the structure of this piece, which retains a clear musical momentum.

The Clarinet Quintet was commissioned by Joan Enric Lluna and the Alexander String Quartet, to whom it is dedicated. I finished composing the piece on June 22, 2011. These same players premiered the piece on July 6, 2011 at California State University's Summer Arts Festival in Fresno, California.

Note by César Cano
Clarinet Quintet, Opus 74 is published by POLYHYMNIA – Ediciones musicales (Spain).
Quintet in B Minor for Clarinet and Strings, Opus 115
JOHANNES BRAHMS
Born May 7, 1833, Hamburg 
Died April 3, 1897, Vienna
Liner Notes by Eric Bromberger
Brahms intended that his Viola Quintet in G Major of 1890 should be his last work. At age 57, he felt that he was done composing. In December of that year he sent his publisher some corrections to that quintet with a brief message: "With this note you can take leave of my music, because it is high time to stop." But it was not to be. A few weeks later, at Christmas, he went to Meiningen to hear the clarinetist Richard Mühlfeld, and the course of music was changed. Brahms was so captivated by Mühlfeld's playing and by the possibilities of the clarinet that he broke his own retirement and wrote four works that have become the heart of the clarinet literature.

Mühlfeld (1856–1907) was an interesting musician. He joined the Meiningen orchestra as a violinist but taught himself to play clarinet and became the orchestra's principal clarinetist at age 23, later serving as principal of the Bayreuth orchestra. So impressed was Brahms by his playing that he nicknamed Mühlfeld "Fraulein Klarinette" and sat for hours listening to him practice. In the summer of 1891, six months after announcing his retirement, Brahms retreated to his favorite summer spot — Bad Ischl, high in the Alpine lake district — and wrote the Clarinet Trio, Opus 114 and the Quintet, Opus 115; two sonatas for clarinet followed in the summer of 1894. These four pieces, all written for Mühlfeld, were Brahms' final instrumental works.

The Clarinet Quintet — first performed in Berlin on December 12, 1891, by Mühlfeld and Joachim's quartet — has been universally acclaimed one of Brahms' late masterpieces. Rather than writing a display piece to spotlight Mühlfeld's playing, Brahms carefully integrates the clarinet into the texture of the music. This is extremely concentrated music, with materials extended and combined in ingenious ways. The Allegro opens with a violin duet that hovers uncertainly between D major and B minor — this tonal ambiguity will mark the entire quintet. Brahms introduces all his thematic material in the first moments of this movement: the undulating theme of the first two bars gives way to the slightly swung shape of the third and fourth bars, followed by the clarinet's rising entry in the fifth. These three theme-shapes will appear in some form throughout the entire movement. At the stormy climax, the theme of the first two bars is heard over fierce swirls in the clarinet, and the movement dies away to conclude with the quiet of the beginning.

The Adagio is in ABA form, beginning with a simple clarinet theme over rhythmically-complex accompaniment in the strings. The unusual middle section brings a sound that is, by Brahmsian standards, exotic. Brahms was very fond of Hungarian gypsy music, and this section, marked più lento, shows that influence: the clarinet leaps and swirls while the accompanying strings whir beneath it (perhaps in imitation of the Hungarian cimbalon) before the opening material returns.

The principal themes of the final two movements are closely related, giving the Quintet an even greater feeling of unity. The Andantino opens with a smooth little tune for clarinet, but at the center section — Presto non assai, con sentimento  — the music rushes ahead and never returns fully to the opening material. The finale, marked only Con moto, is a set of five variations on the opening theme, first stated by the violins and clarinet. Of particular interest is the very end, where the final variation gives way to the theme that opened the first movement, and Brahms' Clarinet Quintet winds its very concentrated way to the quiet unison B that concludes this moving music.

More Brahms:

Order Now from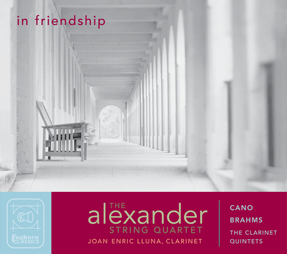 • • •
TRACK LISTING
CÉSAR CANO
Quintet for Clarinet and Strings, Op. 74* (2011)
1. I. Veladas Proporciones
2. II. Ecos y Lances
3. III. Cantos Oblicuos
4. IV. Pulso Florido
JOHANNES BRAHMS
Quintet in B Minor for Clarinet and Strings,
Op. 115
5. I. Allegro
6. II. Adagio
7. III. Andantino; Presto non assai, assai,
ma con sentimento
8. IV. Con moto
More Brahms: