SHOSTAKOVICH STRING QUARTET CYCLE, VOL. 2
ALEXANDER STRING QUARTET
3 Disc CD Set
FCL 1991
"Quartet No. 1 (1938) played by the Alexanders has a beauty we won't often hear from it. There's plenty of vigor when it's called for — vigor is not synonymous with intensity—but there is an intoxicating lyrical spirit that controls the performance.
"The Alexanders show us how much more emotional profundity comes from Shostakovich's quartets when musicians use more restraint in bringing a specific agenda to them. The Alexanders have great confidence in this music, which breathes in this performance. They are making me admire these quartets more than I ever have. There is an overall warmth, both emotional and sonic, that I don't remember. Highly respected recording engineer Judith Sherman is a full partner here, as she often is.
"Again, we have a clear sense that it is the music rather than the musicians that is in control, which inexplicably deepens the listening experience. This is an illusion, of course, which is a credit to the Alexanders." — Bob Neill, Positive Feedback Online Read the full review
Excerpt from liner notes by Eric Bromberger
These fabled works dating from 1960–1975 represent some of Shostakovich's most bitterly frank, occasionally transcendental essays for the string quartet. At times poignant yet occasionally ribald, these performances have been called utterly compelling. Unique in this stunning survey is a fine performance of his "Unfinished" quartet, the first recording of what was originally to have been Shostakovichs' 9th Quartet, discovered and published in 2003. Additionally, listeners will find two more of Zakarias Grafilo's extraordinary transcriptions of the 1950/51 Preludes and Fugues for Piano Op. 87.
More Shostakovich: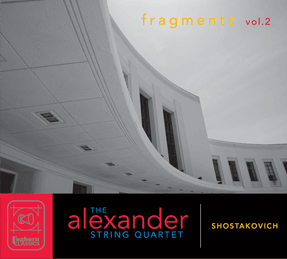 • • •
TRACK LISTING
DISC 4
String Quartet No. 8 in C Minor, Op. 110
String Quartet No. 9 in E-flat Major, Op. 117
String Quartet No. 11 in F Minor, Op. 122
Unfinished String Quartet
DISC 5
String Quartet No. 10 in A-flat Major, Op. 118
String Quartet No. 12 in B-flat Minor, Op. 138
String Quartet No. 13 in F Minor, Op. 122
DISC 6
String Quartet No. 14 in F-sharp Major, Op. 142
String Quartet No. 15 in E-flat Minor, Op. 144
Prelude & Fugue in A-flat Major, Op. 87 No. 17
(arr. Grafilo)
Prelude & Fugue in C Major, Op. 87 No. 1
(arr. Grafilo)
More Shostakovich: