ALEXANDER STRING QUARTET
with JOAN ENRIC LLUNA, clarinet
FCL 2008
"Sometimes you need a little indulgence. Do as I did and pair [the Kern songs] with French chocolate. Or you could be more ambitious and put it on in the background at your next soirée, along with some candles, merlot and prosciutto-wrapped figs…I was surprised by how much I enjoyed [the Porgy and Bess arrangements]…[Carl Davis's] contributions are witty off-the-wall intros and outros to well-arranged Gershwin tunes. Joan Eric Lluna's clarinet dances nimbly around the Alexander String Quartet, even brashly. It's scored like a mini-clarinet concerto. Best is saved for last: Gershwin's Lullaby, an authentic string quartet original that really sounds like it."
—Brian Reinhart, MusicWeb International (Oct. 2014)
"String quartet arrangements of jazz standards are nothing new — and sometimes they're not even anything special. This album is, though. The first four tracks consist of selections from Porgy & Bess arranged for string quartet plus clarinet, and they're excellent. But even better are Jerome Kern's own arrangements... Everything is played beautifully, with a very nice balance between romantic yearning and jazzy swing. Highly recommended."
Liner notes by Eric Bromberger
This recording presents some very familiar and much-loved music in an unexpected format. Ten of Jerome Kern and George Gershwin's greatest songs — songs almost everyone has heard (and probably sung) — are performed here in transcriptions for string quartet (and clarinet). The path to this disc of quintessentially American music was long and circuitous; it involves the contributions of many different people over a span of many decades, and it got its start in Spain.

In 2008 Carl Davis conducted several concerts with Spanish clarinetist Joan Enric Lluna as soloist. Davis explains what happened next:
"Joan confessed to me, after two inspired performances of the Copland Clarinet Concerto in Pamplona (not during the running of the bulls!) that he loved playing Gershwin songs more than anything else. I immediately thought of the orchestration I had commissioned from the distinguished British composer David Matthews of the transcriptions by Jascha Heifetz of four important numbers from Gershwin's Porgy and Bess for orchestra. But Joan had an even more complex proposal: could I re-arrange these myself for clarinet and string quartet? Definitely a challenge, but a practical one. I returned to the original Heifetz piano version and rapidly arranged the violin part for clarinet, but with an added twist. I thought of joining the movements with brief solo cadenzas which would take the listener from one movement to the next. This is the version recorded here."
Joan Enric Llluna recalls his own role in this transcription: "I was very happy to have this piece in the repertoire, but — like all clarinetists — I thought that it would be good to have 'more notes' in the piece. I didn't need to explain much to Carl — he understood perfectly what I wanted. He presented me with the transitions and some variations that I loved, and we polished them together."

The four songs from Porgy and Bess that Davis arranged hardly need introduction — these songs have almost become part of the American national DNA — but it may be useful to recall their place in Porgy and Bess. Clara sings "Summertime" at the very beginning of Act I as she tries to lull her infant son to sleep. This is followed almost immediately by "A Woman Is a Sometime Thing," sung by Jake, Clara's husband, as he tries to get the baby to go to sleep. In Act II, Porgy sings "Bess, You Is My Woman Now" after chasing off Sportin' Life, who had tried to lure Bess to go with him to New York. "It Ain't Necessarily So" also comes from Act II — Sportin' Life sings this mock sermon at the picnic at Kittiwah Island just before the terrifying reappearance of the murderous Crown.

George Gershwin and Jerome Kern were contemporaries, and their careers ran along parallel paths. Both began their careers as "song-pluggers," both began to write songs for shows, both quickly began to write complete shows, and both eventually went to Hollywood, where they wrote songs for films. Together, Kern and Gershwin transformed American musical theater — Kern by his careful integration of songs into the drama unfolding onstage, Gershwin by his melodic gift and sheer energy (and by his readiness to adapt elements of jazz for his own music). And both died relatively young: Gershwin of a brain tumor at 38, Kern of a cerebral hemorrhage at 60. Nearly a century after their careers took off, they remain two of the most distinctive voices in American music.

The music from their shows, memorable as it is, had not translated readily into the concert hall. Robert Russell Bennett — who had orchestrated Kern's Show Boat and Gershwin's Of Thee I Sing for Broadway — later arranged music from both composers' shows for symphony orchestra. These arrangements include  A Symphonic Picture of Porgy and Bess, made after Gershwin's death at the request of the Pittsburgh Symphony Orchestra, and A Symphonic Story of Jerome Kern, first conducted by Artur Rodzinski.

The transcriptions of six Kern songs for string quartet heard on this disc were copyrighted in January 1942, nearly four years before Kern's death, and the published score notes that these songs were "Arranged by the composer and scored for string quartet by Charles Miller." Kern did not do any of his own orchestrations; apparently he arranged these songs as he wanted them to appear, in purely instrumental garb, and his assistant Charles Miller then made the transcriptions for quartet. All six songs were recorded on 78s in 1949 by the Jacques Gordon String Quartet.

Some brief notes on these well-known songs: "All the Things You Are" (on a text by Oscar Hammerstein II) comes from Kern's last stage show, Very Warm for May, which was first produced in May 1933. "The Way You Look Tonight" comes not from a stage show but from a film. Sung by Fred Astaire in the movie Swing Time (1936), it won the Academy Award as the Best Song of 1936. "Bill," one of Kern's most famous songs, had a curious genesis.

He originally wrote it in 1917 on a text by P. G. Wodehouse for the musical Oh, Lady! Lady! A decade later, now with words by Oscar Hammerstein II, Kern used it in Show Boat, where it is sung in Act II by Julie as she contemplates the state of her marriage. The famous "Smoke Gets in Your Eyes," on a text by Otto Harbach, was originally part of the 1933 operetta Roberta, but it has since been recorded countless times by an incredible variety of singers. "Once in a Blue Moon," perhaps the least-familiar song in this collection, was composed in 1923 on a text by Anne Caldwell and is based loosely on Anton Rubinstein's Melody in F.

This disc concludes with the one piece on it that was originally composed for string quartet. Despite his reputation as a "Broadway" composer, Gershwin was anxious to succeed as a "classical" composer. He looked into taking composition lessons from Ravel and Stravinsky, but these never came about (in fact, Gershwin probably had more influence on Ravel than the French composer did on him). Many of Gershwin's finest works are in classical forms, including the Piano Concerto in F, the three Preludes for Piano, and the tone poem An American in Paris; Porgy and Bess, first produced off-Broadway, is now given in opera houses.

Gershwin was only about 21 when he composed the charming Lullaby for String Quartet in 1919 or 1920, perhaps as an exercise in writing for string quartet. It was played privately but never published, and the first public performance of the Lullaby by a string quartet was finally given over thirty years after its composer's death, on October 29, 1967, by the Juilliard String Quartet. The Lullaby is built on its lazily syncopated main theme, heard almost immediately in muted upper strings. Gershwin then puts this theme through a series of cleverly varied repetitions that make use of harmonics, unmuted strings, and individual solos, and the music makes its way to the perfectly judged pizzicato strokes that bring the Lullaby to its relaxed conclusion.
Smoke Gets in Your Eyes —
watch the video


Order Now from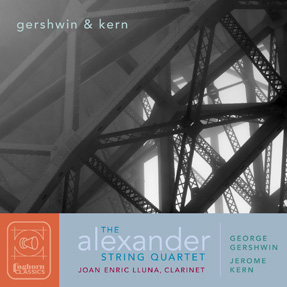 • • •
TRACK LISTING
GEORGE GERSHWIN
"Porgy & Bess" Suite (arr. Carl Davis)
1. Summertime
2. A Woman is a Sometime Thing
3. Bess, You is My Woman Now
4. It Ain't Necessarily So
Alexander String Quartet with clarinetist,
Joan Enric Lluna

JEROME KERN
Six Famous Songs from the Musical
Comedies of Jerome Kern (arr. Kern)
5. All the Things You Are
6. The Way You Look Tonight
7. Bill
8. The Song is You
9. Smoke Gets in Your Eyes
10. Once in a Blue Moon

GEORGE GERSHWIN
11. Lullaby for String Quartet