UPCOMING:
CHAMBER MUSIC WORKSHOP & RETREAT
with THE ALEXANDER STRING QUARTET:
September 7–10, 2017
String Quartet Masterpieces of Haydn, Mozart and Beethoven (1732–1827)
Ratna Ling Retreat Center (Sonoma County, CA)

The Apollo Academy for Health and Humanism is offering a unique weekend program: A chamber music intensive (for musicians and non-playing participants), melded with a series of health-focused offerings (yoga, meditation, healthy food preparation, preventive medicine), writing sessions and exploration of the environment — all set in the beautiful redwood forests of Northern California at the Ratna Ling Retreat Center.
• Pre-formed quartets have an opportunity to be coached by members of the ASQ, and playing participants who are not part of a pre-formed quartet will have a chance to engage in chamber music reading sessions with members of the Quartet and Apollo Academy professional musical staff.
• During evening "dinner concerts" the ASQ will team up with esteemed composer, pianist and music historian Robert Greenberg to provide insight into the string quartet masterpieces of these three Viennese composers and their historical period.

For details, visit: apolloacademy.org
____________________________________
PEERING INTO THE CRYSTAL BALL:
A new work for quintet from Samuel Carl Adams is anticipated in early 2019 with pianist Joyce Yang.

CON MOTO (ASQ, THE MOVIE!)
A crew from the Documentary Film Institute (at San Francisco State University) accompanied the ASQ on their 2015 Polish tour. The resulting film provides a behind-the-scenes look at chamber music (including a pilgrimage to view Beethoven's manuscripts) and life on the road. While Con Moto: The Alexander String Quartet travels to film festivals, you can watch the full 28-minute film online here.


CELEBRATING 2016 — and our 35th season!
Another year has flown by for the Alexander String Quartet. 2016 has been another great year spanning the end of our 35th and into our 36th seasons. We spent the actual anniversary of our first concert (August 4th) spread from pillar to post: Fred was in Boston visiting family, Paul was keeping the home fires burning in California, and Zak and Sandy coincidentally joined up (with their respective families) on the Big Island of Hawaii to celebrate with cocktails and mud-pie. Thirty-Five is a big number in the String Quartet business and the ASQ is collectively both very proud and enormously thankful to our many friends, fans, presenters, collaborators, supporters, and most importantly, for our families who in their unique and essential ways, continue to invest in and maintain our "small but international family business."
A few highlights (in no particular order):
We have made yet another transition to 21st century technologies in the form of large format iPad Pros (12.9 inch) for storing, reading/editing and performing our extensive repertoire. Fred (who is otherwise averse to carrying any excessive weight) is still holding out with the analogue version. Meanwhile the remaining three of us have the advantage of having everything with us at all times. In my case, I recently noted that this includes more than 300 scores!
At this midpoint of the season, we are in the process of performing all the Britten Quartets (including attendant Walton, Pavel Haas and Bartók quartets), beginning another complete Shostakovich Cycle, wrapping up a major Beethoven project (with attendant works by George Rochberg, Robert Greenberg, Mozart and Mendelssohn), re-recording four late Mozart Quartets, while preparing the Mozart Piano Quartets and Clarinet Quintet for recording soon. Added to this we have premiered newly commissioned quartets by Cindy Cox and Tarik O'Regan this season and will continue to introduce these works to wider audiences in 2017 and beyond.
The quartet is ever appreciative of our (mostly) hard-working students, both undergrad and graduate at the Morrison Chamber Music Center at SFSU. Our unique and distinguished program celebrated its 60th anniversary this year, and we proudly celebrated that number with a festive gala evening at Hillsborough's Carolands in March. The ASQ has served as directors of the Instructional Program for nearly 27 years, and we are looking forward to our forthcoming 12th Annual Yehudi Menuhin Seminar in just a little over a month.
Everyone is in great health, and our families are all growing and thriving. The quartet kids are transitioning and relocating, heading to University, winning terrific accolades in some of California's fastest swimming pools, and otherwise, in every way, making us all very grateful for our health and good fortune. We take this opportunity to extend our very best wishes to you and yours for the coming year. May it be a calm, respectful, joyful and peaceful year, mercifully free of fake news and polls.
2015 SNAPSHOT
Another wonderful year — and a bit of a whirlwind! After touring Poland the ASQ returned briefly to SF, then flew out again almost immediately for performances on the East Coast. On July 31, we joined mezzo-soprano Janna Baty, bassoonist Frank Morelli, and pianist Wei-Yi Yang on works by Thomson, Argento, and Copland as part of the Norfolk Chamber Music Festival, teaming up again with Wei-Yi Yang on August 1. From there, we returned to the Nantucket Musical Arts Society (Mozart, Shostakovich, and Brahms). September began with a performance at University of California, San Francisco, and then it was back to New York for performances at the West Kortright Centre followed by a reunion with pianist Joyce Yang at St. Lawrence University. The culmination of this embarrassment of riches was the Fall release of Patagón, featuring 3 works by Bay Area composer Cindy Cox (named by Audiophile Audition a Best Recording of 2015).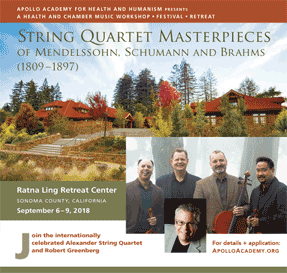 Retreat with ASQ in Sept. 2017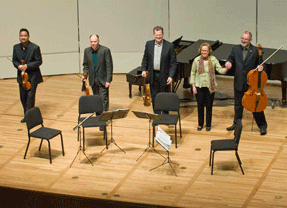 Composer Cindy Cox with ASQ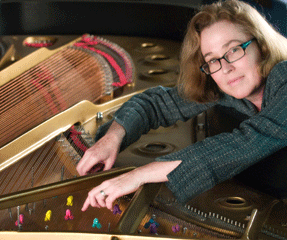 Cindy Cox (photo: K. Karn)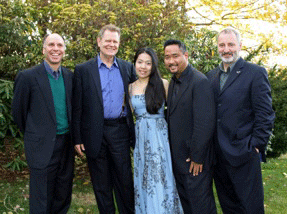 Joyce Yang with ASQ (photo: S. Singer)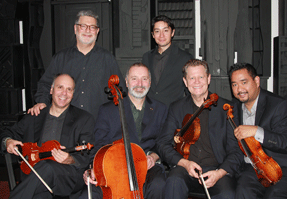 Toby Appel and David Requiro with ASQ
(photo: S. Singer)
• • •