retrospections   wayne peterson string quartets
WAYNE PETERSON
THE STRING QUARTETS
ALEXANDER STRING QUARTET
FCL1994
"Most enjoyable performances of engaging works that have absorbed a wide range of influences whilst remaining true to their own logic and direction." — MusicWeb International


Notes by composer Wayne Peterson:

String Quartet No. 3 "Pop Sweet" (1998)
This work represents a radical stylistic departure from the music I have created in the past. Here, each piece is quite tonal, less contrapuntal, more consonant and considerably more traditional in its construction. I have endeavored to write music that is clear and direct, yet not without a certain degree of sophistication. The outside movements are gentle parodies of idioms emanating from the popular music of Latin America and Midwestern country music respectively.
"Samba These Days" has four main sections: A, B, B, A. The first contains a Bossa Nova theme followed immediately by two variations. The middle section is a polytonal Tango leading directly to a mysterious, sensual Habanera. An extended pizzicato passage serves as a transition while accelerating the tempo to that of a Samba. At this point the opening Bossa Nova theme returns for its third, contrapuntally extended and climactic variation.
"Lament" casts a fond, nostalgic glance back to the late 19th and early 20th century with particular reference to the quartets of Debussy and Ravel. It is through composed and, save for a few dramatic interruptions, features a sustained lyricism throughout.
"Can This Grass Be Blue?" was inspired by the exciting, energetic abandon with which country fiddlers such as Chubby Wise, Red Herron and, above all, Mark O'Connor toss off their hoedowns, rags and hornpipes. This piece is a large A B A form. The A sections, played presto throughout, are unified by a ubiquitous accompanimental motif. There are brief quotes from such droll favorites as Lee Highway Blues, Forked Deer, Herman's Hornpipe, Hell Among the Heifers, Dusty Miller, etc. Contrast is provided by a much slower, somewhat saccharine "Saturday Night Waltz" which occurs mid-way, initially presented in a straight-forward manner by the viola and cello, the violins proceed to join them in a surreal, polychordal restatement, the wayward rhythmic accompaniment of which strongly suggesting an overzealous consumption of Budweiser. The final A section, while recapitulative, is more developmental and employs long passages of polytonality in reaching its brilliant, concluding climax.
String Quartet No. 2 (1991)
Dedicated to the Alexander String Quartet and commissioned by Composers, Inc. (with a grant from the Wallace A. Gerbode Foundation), this work has two contrasting but related movements:
"Apparitions" features extreme contrasts of dynamics, pitch and texture. Its volatile moods swing from uneasy calm to great apprehension. The pace is predominantly slow and hesitant, although torrents of rapid notes interrupt frequently. On three occasions, broad melodies try to assert themselves in the icily indifferent accompaniment, only to be swept aside by tempestuous outbursts.
"Jazz Play" is a fond reminiscence of my days as a pianist during the Bebop Era. It contains many references — both melodic and rhythmic — to such standards as Night in Tunisia, Cheryl, Salt Peanuts, Ko Ko, Billie's Bounce and Moose the Mouche. This is not, however, a jazz composition, but rather a work which uses jazz material in a way consistent with the harmonic and melodic language of the first movement: the first six measures of "Apparitions" are transposed and transformed to become the introductory gesture and first "theme" in "Jazz Play." What previously was austere and foreboding now becomes light and euphoric. After a steady increase in tension and tempo, a raucous, polyrhythmic climax based on the opening motifs brings the quartet to an emphatic conclusion.
String Quartet No. 1 (1983)
My first quartet (1983) is dedicated to Benjamin Hudson, leader of the Columbia String Quartet.
This work is approximately 17 minutes in duration and is played without pause. I consider it to be more rhythmically straightforward and lyric than many of my previous efforts. Although its formal structure is somewhat complex, the material is presented in such a direct manner that the listener should have little trouble in following its course.
There are two large main sections. The first alternates between Allegro and Moderato passages which contain motifs, rhythmic gestures and textures that are generic to the work as a whole. A sustained developmental buildup follows, culminating in a highly dissonant and rhythmically irregular passage. There follows a long transition which serves to dissipate the tension, making way for the second main section, an Adagio. Here successive lyric statements by the cello and viola are intruded upon by disruptive elements emanating from the previous Allegro. Tensions accumulate once more as the final violin leads, with increasingly agitated gestures, to a textural climax. After a final, brief return to the Allegro, calm is gradually restored and a Coda brings the piece to a tranquil conclusion.
— Notes by Wayne Peterson
Photographs of Anchor Steam Brewery, San Francisco,
by Rory Earnshaw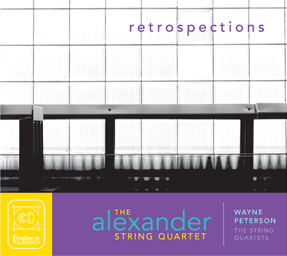 • • •
TRACK LISTING
String Quartet No. 3 "Pop Sweet" (1998)
1. Samba These Days
2. Lament
3. Can This Grass be Blue?
String Quartet No. 2 (1991)
4. Apparitions
5. Jazz Play

6.  String Quartet No. 1 (1983)