FoghornClassics was founded by the Alexander String Quartet in 1994. We chose the name in order to establish our location and affinity with the San Francisco Bay Area where foghorns are a part of our daily soundscape. In researching the name, we became aware that there was a company in Australia called Foghorn Records (a recording studio it turned out) as well as a publishing company in San Francisco (Foghorn Press), and so to distinguish our own operation from those, we registered FoghornClassics.com
One of the more peculiar features with which we had a little fun was to include a variety of short recorded foghorn sounds as a concealed "bonus" track at the end of each our earlier releases. It began as nothing more than an innocent conceit with which we had a lot of fun and it elicited quite a few humorous responses. We heard of dozing late night radio disc jockeys who were startled awake and a letter from one lady who was unable to identify the actual sound and wrote a colorful letter reporting that her player was apparently defective, though only when playing this particular disc. Things may have gone too far when our producers began to bring their own recorded foghorns to the projects and in the case of the Shostakovich cycle recordings on six consecutive discs, the selections evolved into corresponding numerically sequential blasts. WE loved it all, but we were finally persuaded to cease and desist when a very articulate British critic who otherwise loved the recordings, observed that we really might be desecrating the repertoire. Sure maybe he had a good point. Anyway, we have agreed that when we sell through that title, we will remove the bonus tracks going forward. Meanwhile, if you are curious to listen and don't own one of the earlier releases, you can check out some of the foghorns here:
| | |
| --- | --- |
| 10_FoghornClassics.com.mp3 | Audio Track 1 |
| 1_09_FoghornClassics.com.mp3 | Audio Track 2 |
| 2_09_FoghornClassics.com.mp3 | Audio Track 3 |
| 2_12_FoghornClassics.com.mp3 | Audio Track 4 |
| 3_09_FoghornClassics.com.mp3 | Audio Track 5 |
| 3_12_FoghornClassics.com.mp3 | Audio Track 6 |
| 4_19_FoghornClassics.com.mp3 | Audio Track 7 |
| 5_08_FoghornClassics.com.mp3 | Audio Track 8 |
| 6_12_FoghornClassics.com.mp3 | Audio Track 9 |
Another "geographically specific" feature of our FoghornClassics label have been the wonderful photographic contributions from our local "Scottish" photographer, Rory Earnshaw. Rory's atmospheric images have typically featured Bay Area locales, often architecturally oriented. With a few exceptions, we have colluded to avoid iconic structures, preferring to hint at quizzically familiar features and challenging the observer to sort out the location.
For our release of Bartók & Kodály — The Complete String Quartets (FCL 2009), we assembled a selection of possible images and invited our listening community to participate in the selection process — by voting!
View all images / View final selection!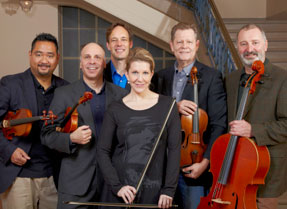 30th Anniversary Celebration: ASQ with Joyce DiDonato and Jake Heggie at SF Performances (photo: Brian Byrne).
"The first half of the concert was equally affecting. It began with Heggie accompanying DiDonato in a superb account of Reynaldo Hahn's song cycle "Venezia," a witty and insinuating collection of bonbons, and continued with a strong-boned but tender rendition of Debussy's String Quartet in G Minor. As an encore, all six performers joined forces for Richard Strauss' "Morgen!" delivered with rapturous serenity." — Joshua Kosman, San Francisco Chronicle