THE COMPLETE STRING QUARTETS
ALEXANDER STRING QUARTET
3 Disc CD Set
FCL 2009
Recorded June/July 2012 and produced by Judith Sherman, it features all of Béla Bartók's six string quartets and both of Zoltán Kodály's string quartets, from 1908 and 1917 respectively. The ASQ plays on the matched Ellen M. Egger quartet of instruments, all Stradivarius models, made in 1987 by San Francisco based luthier Francis Kuttner.


"If ever an album had 'Grammy nominee' written on its front cover, this is it. There have only been a handful of "complete" Bartok quartets recordings that one can call 'legendary' … but without doubt these new readings will ascend quickly to that exalted status. Astoundingly enough, I know of only one other recording of the two Kodaly quartets…and the inclusion of these two wonderful works more than doubles the value of this set.
"In this new recording the Alexander String Quartet, in residence since 1989 at the San Francisco State University, touches all the bases in an unqualified Grand Slam. With the precision of the old Juilliard recording, the unassailable projection and boldness of the Emerson, and the heartbreaking delicacy of the Takacs, they capture every memorable moment of these eight quartets with an authority and finesse virtually unmatched. And they do so in sound that is surely the best these quartets have ever gotten. …the radiant sonic beauty of St. Stephen's Episcopal Church in Belvedere, CA., are presented in a sound sketch of supreme warmth, clarity, and wide dynamic range. Absolutely essential for anyone remotely caring about this music.
"This is an essential recording, maybe the best ever of these important works....they capture every memorable moment of these eight quartets with an authority and finesse virtually unmatched."
— Steven Ritter, Audiophile Audition — 5 Star Review (Dec. 2013, FCL 2009 Bartók & Kodály)
"While we have the excellent Alexanders in front of us, mention must be made of this always intelligent, intense, musical, satisfying and well recorded set. Add this to the list of recordings that challenge and maybe surpass the classic Julliard recording of the Bartók cycle. Combine the fine and less well known Kodály quartets and you have a special release indeed." — Don Clark, Pictures on Silence — Best of 2014 (Dec. 2014, FCL 2009 Bartók & Kodály)
"The Alexander String Quartet has an eloquence and sense of natural communicativeness which seems to lift a layer of difficulty from these Bartók quartets…gaining a warmth of expression which welcomes you in to this world of magic. Yes, brutality and dissonance isn't shied away from, but neither is it presented as some kind of avant-garde motivational essence for these quartets. The ASQ's Bartók/Kodály set is very much one to acquire for long-term appreciation." — Dominy Clements, MusicWeb International
(Nov. 2013, FCL 2009 Bartók & Kodály)


Excerpt from liner notes by Eric Bromberger
In 1909 four young Hungarian musicians — violinists Imre Waldbauer and János Temesváry, violist Antal Molnár, and cellist Jenö Kerpely — formed a string quartet dedicated to the cause of new music. At a time when musical life in Hungary was generally moribund, the Waldbauer-Kerpely Quartet gave the Hungarian premiere of Debussy's String Quartet in 1910 (with Debussy in attendance) and performed quartets by Schoenberg and other contemporary composers. But the young quartet had been formed specifically to advance to the cause of Hungarian music. Its members were close friends with two young professors at the Budapest Academy of Music, Béla Bartók and Zoltán Kodály, and for the quartet's very first concerts — in March 1910 — it played two "composer evenings." Each was devoted to the music of one of those composers, and these two concerts would be optimistically hailed as "the double birthday of modern Hungarian music." On March 17, the Kodály evening brought the premiere of his String Quartet No. 1, Cello Sonata, and various piano pieces. Two days later, on March 19, the Bartók evening saw the premiere of his String Quartet No. 1, short works for the piano performed by the composer, and the Budapest premiere of his Piano Quintet. It is a mark of the dedication of the members of the Waldbauer-Kerpely Quartet that they had nearly a hundred rehearsals before they felt they were ready to give those first concerts, and over the next year the ensemble performed these two quartets throughout Europe, including performances in Berlin, Vienna, and Paris. Those pioneering performances by the Waldbauer-Kerpely Quartet established a precedent that would be sustained across the rest of the century. From the first moment, Kodály and particularly Bartók enjoyed the support of what would prove to be a succession of many passionate advocates, dedicated performers who would champion this music at a time when critics and audiences found it alien and threatening.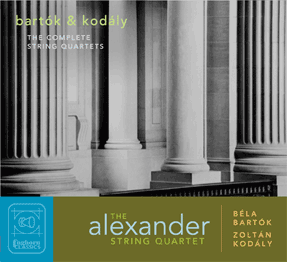 • • •
TRACK LISTING
DISC 1
BÉLA BARTÓK
String Quartet No. 1, Op. 7, Sz. 40
String Quartet No. 3, Sz. 85
String Quartet No. 5, Sz. 102
DISC 2
BÉLA BARTÓK
String Quartet No. 2, Op. 17, Sz. 67
String Quartet No. 4, Sz. 91
String Quartet No. 6, Sz. 114
DISC 3
ZOLTÁN KODÁLY
String Quartet No. 1, Op. 2
String Quartet No. 2, Op. 10


"The Second Quartet's pounding middle movement is fantastic here, and the quartet's elusive close is nicely taught. You'll rarely hear the compact, pungent Third Quartet dance as it does here, the last few minutes being thrilling without being too abrasive. … You reach the valedictory Sixth with some trepidation – sad that it's the last quartet, and apprehensive as to whether this team will catch the music's elusive, melancholy cast. They do, with ease, and the music's ambiguous close is caught to perfection.
…Kodály's slightly more listener-friendly idiom makes his works an ideal appetiser before diving into the Bartók set. The compact Second is especially enjoyable, concluding with an exuberant sequence of dances. This is a set to treasure, beautifully recorded and well-annotated. It's also incredibly reasonably priced, and hopefully will prompt listeners to seek out this team's equally impressive Shostakovich cycle."