ALEXANDER STRING QUARTET
MOZART SIX QUARTETS DEDICATED TO HAYDN
FCL 1985

"The Alexander String Quartet manages a double-act of time travel in their Mozart set. Aside from the trip back to Mozart's day, they also offer a performing style that brings to mind some of the great string quartets of the early stereo era. … These are resolutely romantic performances, with a goal of being just as gorgeous, elegant, and glamorous as can be ... and boy, do they succeed. … The Alexanders are a luxury string quartet: big, rich, impeccably tuned instrumental sound. The flowing slow movement of K428 feels like its nine minutes are exhaled in one deep breath. …given the high quality of these performances and the immediate presence of the recording, napping is not something you're likely to be doing." — Brian Reinhart, MusicWeb International (June 2015)

Liner notes by Eric Bromberger:
In 1784 the young English composer Stephen Storace, then living in Vienna, hosted what he called a "quartet evening" — he invited a group of friends to his home to play and hear string quartets. The performers that evening were distinguished indeed. The violinists were Joseph Haydn, then 52, and Carl von Dittersdorf, then 45; the violist was the 28-year-old Wolfgang Mozart, and the cellist Johann Baptist Vanhal, also 45. The relations between these four composer-performers were long and complex. As Kapellmeister for the Esterhazy family Haydn had conducted Dittersdorf's music, Vanhal had studied with Dittersdorf, and as a boy Mozart had performed Vanhal's concertos and copied out Dittersdorf's scores as a way of studying them. No one knows when Mozart met Haydn. Presumably it was sometime in the three years since Mozart moved to Vienna in 1781, but he had known Haydn's music since he was a boy.
Now these four men sat down to play quartets at Storace's home, and tenor Michael Kelly, who left an account of the evening, said that the quartets were followed by "an excellent supper [that] became joyous and lively in the extreme." If only that "quartet-evening" could have been recorded! A recording of that evening might reform our sense of the entire era. We could learn what those four men talked about and what they thought of the quartets they were playing. We could hear them play and learn much about performance practice at the end of the eighteenth century. And we could know what they played that evening. Was it some of Vanhal's myriad quartets? Did they play any of Haydn's Opus 33, a set of six remarkable quartets that had been published two years earlier? Or did they — perhaps — play some of the string quartets that Mozart had written in response to Haydn's Opus 33? Three of those quartets had been completed at this point, and while they had not been published, perhaps these four composer-performers played through them from handwritten copies.
It is tempting to believe that they might have, to believe that those three quartets came to life for the first time on this occasion. For Mozart — not an easy person to impress — had been more than impressed by Haydn's Opus 33. When he published those quartets, Haydn described them as having been written "in a quite new, special manner," and the quartets — Haydn's first in eight years — represent a re-thinking of the form. Gone are all traces of the old divertimento-style quartet, and in its place is an increasingly subtle approach to the possibilities of the form: a new clarity of texture, greater use of all four voices (particularly of the viola and cello), full exploitation of the motivic possibilities within themes, polished contrapuntal writing, and the replacement of the minuet movements with scherzos.
Much has been made of Mozart's lightning ability to assimilate new musical styles, and this does not mean putting on borrowed robes or aping a different manner. Rather, Mozart had the extraordinary ability to comprehend a new style, make it his own, and write his own music within those newly-discovered possibilities. Like Haydn, Mozart had written no quartets for nearly a decade when he encountered Haydn's Opus 33, and now — with this example and its possibilities before him — he returned to the form and wrote six quartets of his own. This did not happen all at once: he wrote the first three between December 1782 and July 1783, then waited well over a year before writing the final three between November 1784 and January 1785. When he published them in 1785, Mozart dedicated the set to Haydn and in the process revealed that the older composer had come to know these quartets in manuscript, noting that "you, yourself, my very good friend, expressed to me your approval of these compositions." Usually a very quick worker, Mozart spent a great deal time and care on these quartets — he used the occasion of this dedication to confess that they had been "the fruit of long and laborious study." If Haydn knew that his Opus 33 quartets represented something "quite new," now Mozart was aware that his own "laborious study" had resulted in something new of its own, and he confessed that "the hope which many friends have given me that this toil will be in some degree rewarded, encourages me and flatters me with the thought that these children may one day prove a source of consolation to me."
Mozart's premonition has proven correct — two centuries later, these quartets are regarded as one of his supreme achievements. Yet for all Mozart's fulsome gratitude to Haydn, it should be said immediately that these quartets do not sound like Haydn — they sound like Mozart, and Mozart has made Haydn's "special manner" very much his own. There are passing moments, ephemeral flashes, when Mozart's quartets seem to echo a phrase from Haydn's, but these are gracious nods rather than borrowings. Mozart's act of homage in these six quartets was to understand Haydn's achievement and then to write his own music based on that understanding. In many ways, particularly in the extension of thematic material and the complex contrapuntal writing, Mozart goes well beyond the master whom he set out to honor in this music and from whom he had learned so much.
________
Mozart may have intended these quartets, at least in part, as an act of homage to Haydn, whose example had challenged his own imagination. But the world at large was not ready to extend the same homage to Mozart when these six quartets were published in Vienna in 1785. We have already seen one reviewer's discomfort in the face of their harmonic freedom, and Haydn himself admitted confusion before the "dissonant" introduction of the Quartet in C Major, saying only, "Well, if Mozart wrote it, he must have meant it." A more sour reaction came from one of Mozart's fellow-performers at the "quartet-evening" at Stephen Storace's home in 1784. In a letter to his publisher in 1788, Dittersdorf complained bitterly of the "overwhelming and unrelenting artfulness" of these six quartets.
Perhaps the final word should be left to the man who inspired this music. The three final quartets of the set were premiered at another quartet party on February 10, 1785. Haydn was there to hear them, and following those performances he pulled Leopold Mozart aside. What he said to Mozart's father has been quoted often, but those remarks are worth hearing one more time: "Before God and as an honest man, I tell you that your son is the greatest composer known to me either in person or by name. He has taste and, what is more, the most profound knowledge of composition."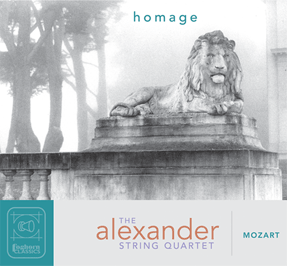 • • •
TRACK LISTING
DISC 1

String Quartet in G Major, K. 387
String Quartet in D Minor, K. 421

DISC 2

String Quartet in E-flat Major, K. 428
String Quartet in B-flat Major, K. 458 "Hunt"
DISC 3

String Quartet in A Major, K. 464
String Quartet in C Major, K. 465 "Dissonant"